After several days drought of absolutely nothing to write, I finally have a great topic. Today is Vincent van Gogh's 159th birthday! They had an article with slide show on the artist today on the Huffington Post. Van Gogh happens to be one of my favorite artists, and I have had the great fortune to see a lot of his works in person either on exhibition or at the Van Gogh Museum in Amsterdam or other permanent collections. For a complete list of all of van Gogh's painting (I had no idea there were so many), check out this link. These are just the oil paintings, though he was also did a enormous number of sketches, drawings, watercolors and other graphical works, which can be accessed from the same website.
My undergraduate degree is in Art History, so I love going to museums and checking out cool exhibitions and have seen some really cool art this way. I saw a particularly amazing exhibit on Van Gogh and Gauguin and their influences on each other, which was fascinating, at the Van Gogh Museum. Apparently Gauguin did some paintings of sunflowers, after receiving paintings of sunflowers as decoration for the house in Arles (where they were both living together). For more information on the Gauguin/Van Gogh collaboration and relationship, please see this website. I would like to finish this post by including images of my favorite van Gogh works. Does anyone else like van Gogh? If so, what are your favorite pieces?
This painting is entitled Blossoming Almond Tree, Saint-Remy, c. 1890. Van Gogh created this work for his baby nephew and godson, also named Vincent. He was influenced by Japanese block prints, and the painting represents rebirth.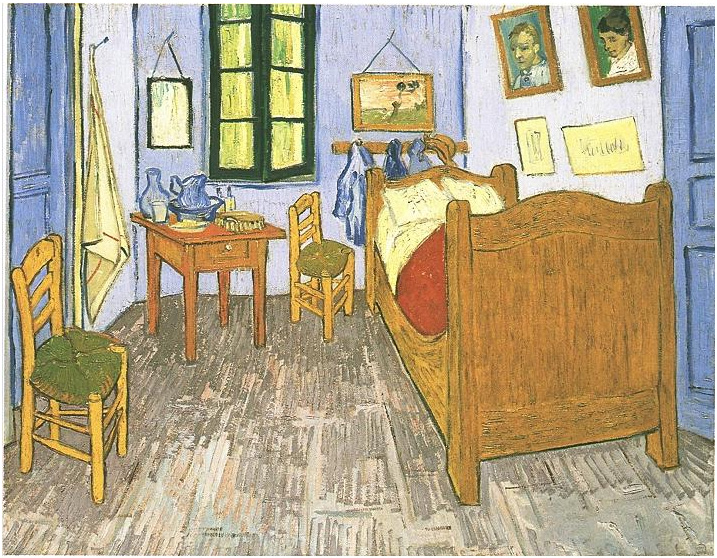 This painting is entitled Vincent's Bedroom in Arles, Arles Oct. 1888. I know it is a simple picture of the artist's bedroom but for whatever reason (perhaps its simplicity), I have always loved this work above all other of his paintings. I orginally saw it when I was about 16 at an exhibit at the National Gallery of Art. According to this website: "Vincent's Bedroom in Arles is one of the artist's best known paintings. The striking colours, unusual perspective and familiar subject matter create a work that is not only among Van Gogh's most popular, but also one that he himself held as one of his own personal favourites."
This painting is entitled Wheatfield with Crows, Auvers-Sur-Oise July1890. I have always liked this painting even though it is a dark, sad and foreboding painting, as exemplified by the dark colors used and all the crows depicted. It was done a couple of weeks before his death. For a more in-depth discussion of this painting, head over to this website.